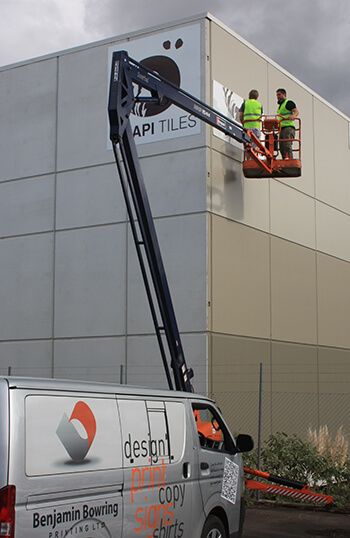 Building and Site Signs
Smarten up your work place with building and site signs. With professional and modern appearance, building signage can decorate the room or exterior, as well as act as an information guide for visitors making it easy for them to find your business and attract new customers passing by. Made at any size from varying substrates we can supply printed sign panels to specially designed routed signs. Reception and entrance signs, 3D lettering, lighting effects, steel framing, interior and exterior.
External signage being a large portion of our work we believe that our crews all have the necessary equipment, knowledge and experience to carry out every install in any situation.
Whether it be 100m+ and needing powered access, 8m using mobile scaffold tower or 1m below ground level using a good old fashion spade Bowring Print can cover it all. Large or small, illuminated or not, full re-brands to one off fascias we install everything to the highest standard. Always making sure that the sign and workplace are left clean, the job is signed off and photo's are taken.
" Why not stay in the comfort of your own workplace and let us battle against the elements! "
At Bowring Print we are aware that when installing internal signage the biggest hurdle is not generally the installation but the works affecting the day to day running of the end clients business.
With this in mind we always try to work with you and the end client to minimise disruption, whether it be working out of hours or putting up barriers to re-direct people we will take every precaution to prevent any such fuss.