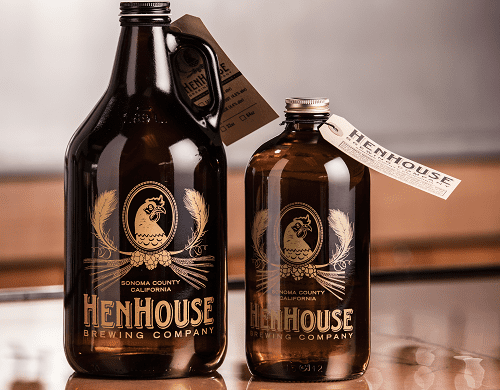 Shape Up your Drinks Promotion
The single bottle neck tags have been seen on supermarket shelves for many years and are now widely used for liquor and drinks promotion.
To have the edge above your competition we suggest custom made shaped wine bottle neck tags. To ensure that your wine bottle neck tag has the charisma to entice the consumer to your bottle, simple designs have proved to be very successful.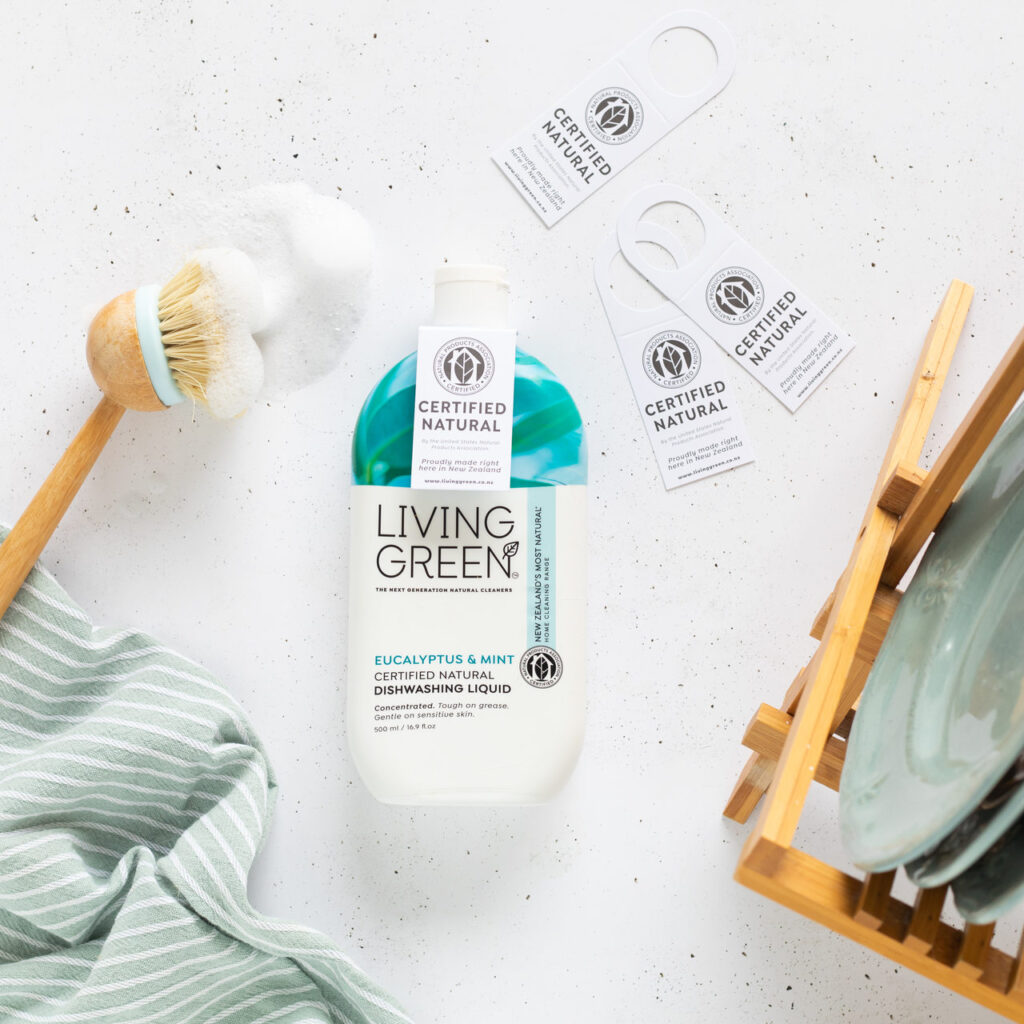 Attract your Customers with Bottle Neck Tags
To appeal to your customers your bottle neck tag has to have character and charm. With your own individual shape, graphics and printing your drinks promotion will not be missed amongst the other's on the shelves. Knock spots off your competitors with wine bottle neck tags with individual personality.
For a successful drinks promotion or advertising campaign bottle neck tags are a superb product to use. Decorating the bottles with a bright and cheerful single bottle neck tag makes your job easy.
This item entices your customer to try your wine since the tags look appealing and draw attention to your bottle, leaving all the others sitting on the shelves.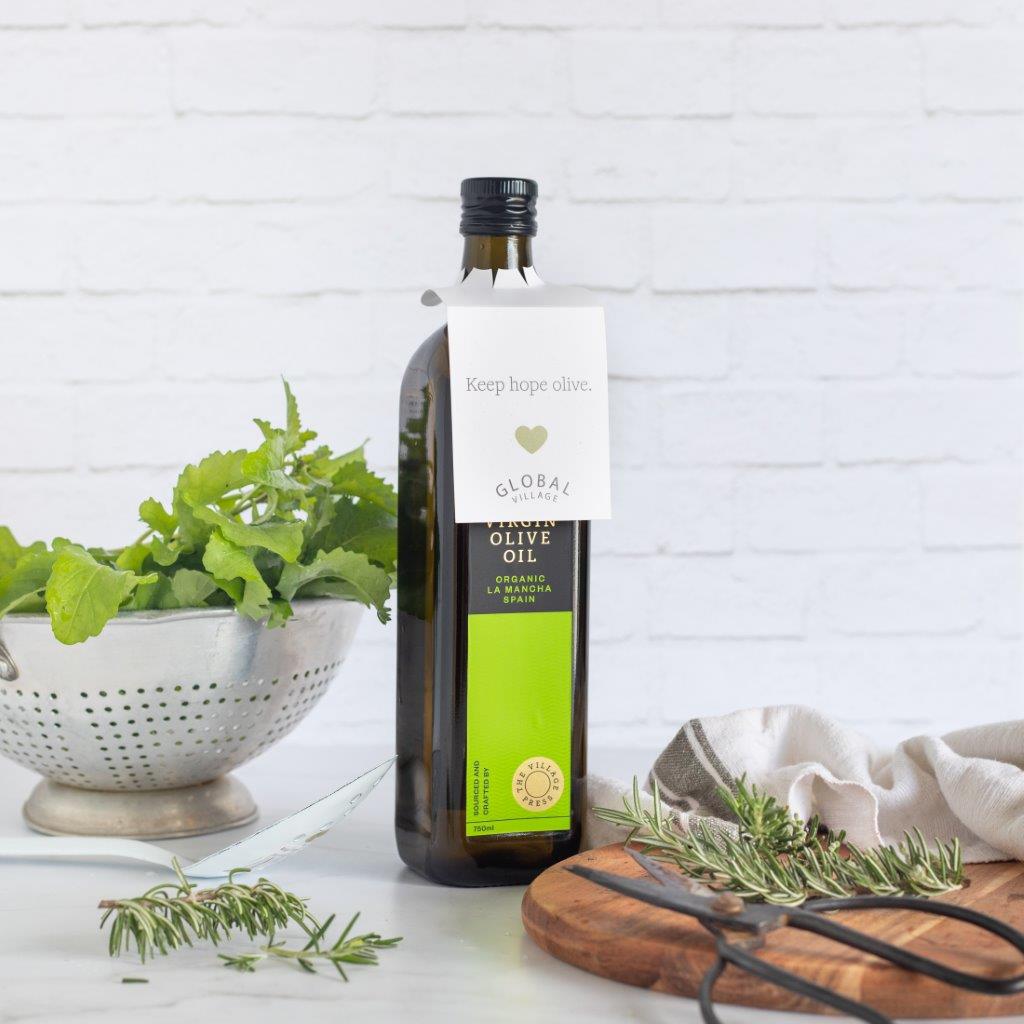 Drink Promotion Easy with a Bottle Hanger
A Single Bottle Hanger is an easy way to highlight your drinks promotions and attract attention from customers. The Single Bottle Hanger is one of the no-fuss drinks promotion products that has been around for a long time. It is perfect if you require a simple but eye-catching announcement.
The Bottle Hanger has many variations for extra attention-grabbing, the most simple being to use custom-shaped on pack drinks promotion products to match your campaign. A fruit shape always draws attention to a drink promotion, or a rose or a heart for a Valentines drink promotion. Bottom Fold Bottle Hangers and Double Side Bottle Hangers, both are like mini brochures attached to the bottles and can also be custom shaped.
Another adaptation to the Single Bottle Hanger is the Gateway Hanger which is a top choice when you have more to say and was introduced by Bowring Print for this reason. The Gateway Hanger opens up like a gate and looks terrific when designed in a custom shape too. All the Bottle Hangers are drinks promotion products that catch attention, instigate more investigation and purchase. Mission accomplished whichever Bottle Hanger you choose for your drink promotion.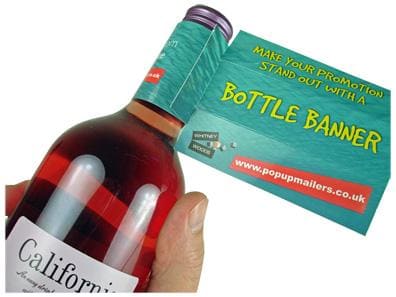 Interlocking Bottle Banner Offers Hard-to-Miss Display
Even on the most crowded supermarket drinks shelves there are never more than a handful of on-bottle promotions running at any one time, so you might be excused for thinking that customers who are scanning the shelves will easily notice these promotions. Sure, they will see them, but will their gaze rest upon the bottles with the promotion? We say not, unless the choice of bottle media is one that really sets the bottle apart from the others. One bottle tag product that will certainly do that is our Bottle Banner, a special type of bottle collar.
The Bottle Banner is an interlocking product that sits right on the bottle top, rather like a flag – giving the most eye-catching of displays. When the Bottle Banners are to be used on wine and spirits bottles they will be supplied ready interlocked and folded flat ready to slip over the bottle neck.
Bottle after bottle in your supermarket drinks aisle will be virtually the same shape. There will be no more than half a dozen "see-through" colours but there will be a very colourful and attractive variation in label designs and bottle caps. Every now and then you will see something wrapped around or hanging from a bottle neck and that will be an on-bottle promotion or an item of bottle media for marketing wine and spirits.
You might think that because there are not many of them that they will really stand out on the shelves but do they? The styles of bottle media seem not to have changed for ages and so we think that it is time for a change if your promotion is to stand out in a crowd. Well, the Bottle Banner is a real change from the norm for bottle media and it certainly does stand out from a crowd.