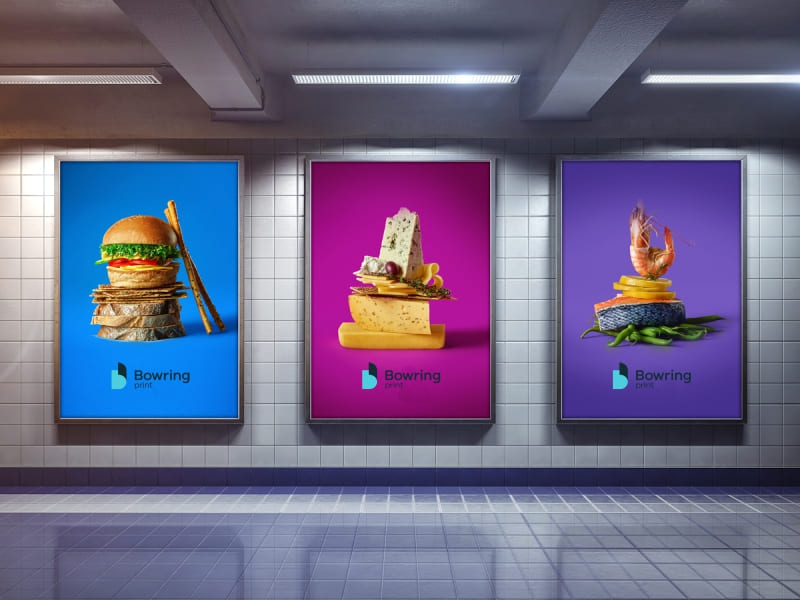 Internal Signage and Display Solutions
There is no better way to make an impression on your clientele than with custom indoor signage and displays. Indoor signs come in a variety of materials, shapes and sizes. Large format printing using Eco Solvent UV Inks allows us to print a variety of substrates and media in superb quality to cover a wide range of requirements for enduring value.
Our most popular indoor signage solutions include Acrylic Signs, Poster Prints, Display Systems, Indoor Banners and Point Of Sale. For added interest and dimension, we also offer engraved plaques and 3D Lettering.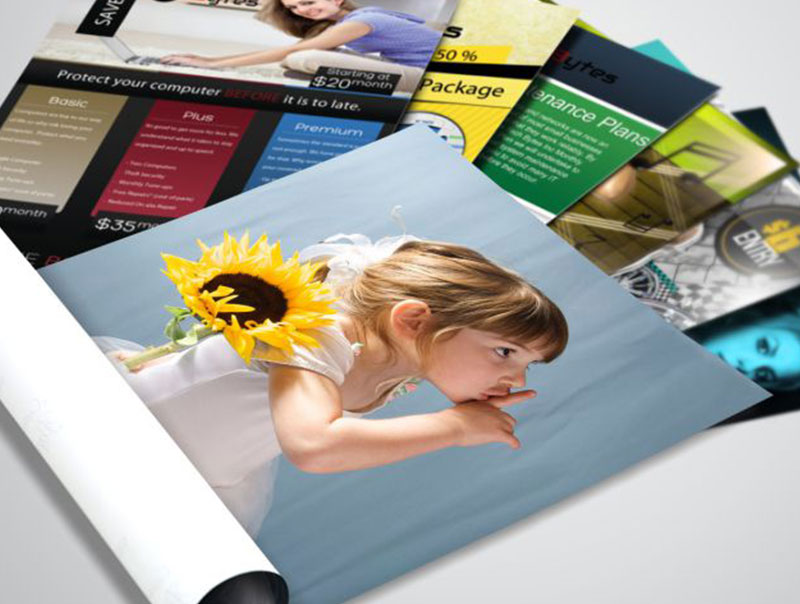 Custom Posters & Photo Quality Poster Printing
One of the simplest signs in use today, posters serve a variety of purposes and needs, and can be custom made and sized for your application. From communicating complex messages to adding to your décor with photo quality artwork on office and store walls, posters are an effective and versatile solution.
Large format colour printing is the best way to go when you have small runs of posters, POS and other presentation prints. Not only is it fast, it's cost-effective and produces incredibly crisp high resolution graphics and photo quality reproduction. We can print onto a wide range of substrates and textured papers adding another dimension to your prints. Adding a protective laminate will protect the print for environments where the posters may get fingerprints or moisture, and also reduces wrinkling and gives the desired finish (gloss or matte).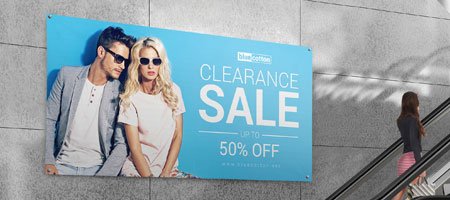 Custom Indoor Banners
If you are looking for short-term signage, digitally printed banners are the way of the future! No longer are you limited in choice when it comes to your banner needs.
One of the most popular and versatile types of signs available today, banners are well-suited for interior use. The vinyl material is flexible, tear resistant, and highly portable. Full colour UV Ink produces stunning graphic displays and a print that will last. We can even provide eyelets in your banners so they are all ready to hang on any wall or from any ceiling!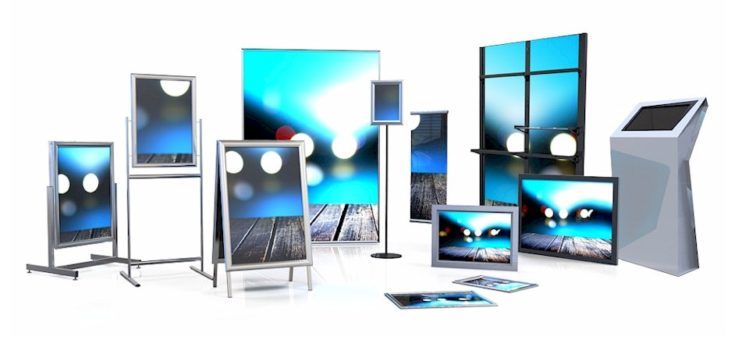 Display Systems & Pull Up Banners
High impact display systems and pull up banners are the perfect solution to ensure that you stand out from the crowd at your next trade show exhibition or conference event. Ideal for where space can be limited, or to create a temporary wall, these striking stands are also great for in your office and for retail shop use.
We print and supply several display system products in many different sizes and styles to ensure that we have the perfect stand for your requirements. Our pop up display systems are strong, lightweight, extremely portable and can be assembled or dismantled in minutes. We can also swap out and update prints so that you can re-use your system again and again.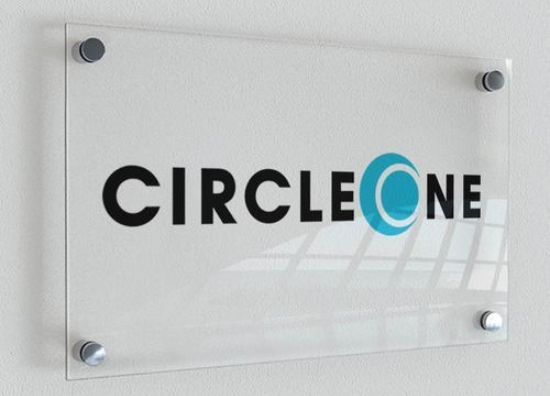 Acrylic Signage and Wall Signs
Best suited for indoor use and commonly found in lobbies, offices and reception settings, custom acrylic signs are an excellent choice for a simple yet beautiful look for any business or professional setting. They are 100% customizable and one of the best ways to showcase your logo or brand.
Acrylic signs are made from a cast polymer that is colourless and transparent. Printing can be direct onto the material, or vinyl lettering or print films can be mounted to the board. Acrylic has a glass-like appearance, yet it's lighter and much easier to install. A durable sign option that maintains a rigid appearance and is easy to maintain. Customized acrylic signage will add a sophisticated corporate look to any office, corridor, or lobby.
PVC plastic signs are also a popular choice for indoor signage. They are also lightweight and thin with a professional looking smooth finish. They are durable and easy to mount using screws, double-sided tape or adhesives.
Vinyl Lettering and Decals are also an inexpensive option for displaying your graphics on interior walls. They are available in a wide range of colours and virtually any design. The best part about vinyl lettering and graphics is that they do not need to be applied by a professional to achieve a professional look.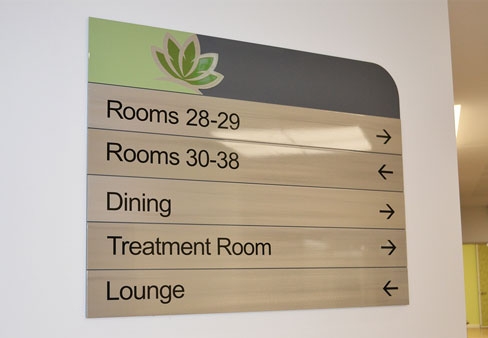 Reception and Directional Signs
If you have a lobby, or building that requires navigation, you need directional wall signage. If there is one sign that is more important than the marker that you have placed on the outside of your building, it is the reception area signage that you choose for the inside.
While the need for this type of marker is pretty much universal, the actual look is as unique as you and your company. Customized acrylic signage will add a sophisticated corporate look to any office, corridor, or lobby.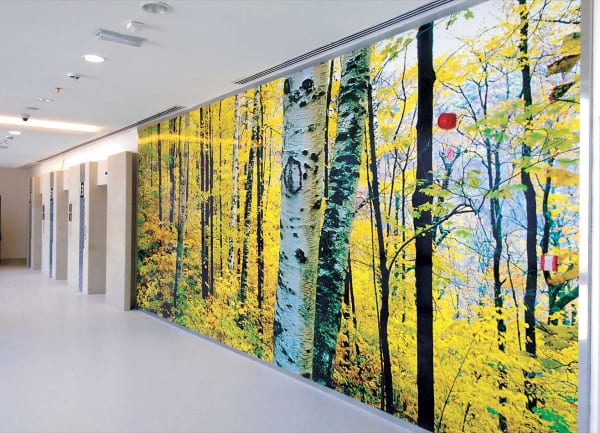 Wall Graphics, Floor Graphics and Murals
Professionally designed custom wall and floor graphics can add spectacular imagery and colour to an otherwise bland wall or space. With the onset of wide format digital printing capabilities, walls and floors have become great advertising vehicles and areas to add to your company's décor.
Most wall wraps and wall murals are digitally printed vinyl with a protective overlaminate to both protect the print and give the desired finish (gloss, lustre, or matte). Additional options include digitally printed wallpapers and textured materials. The possibilities for design and images on walls and floors are endless and only limited by your imagination. Although wall graphics have become more popular in indoor applications, wall graphics can be used indoors or out, and we can install all graphics on location.